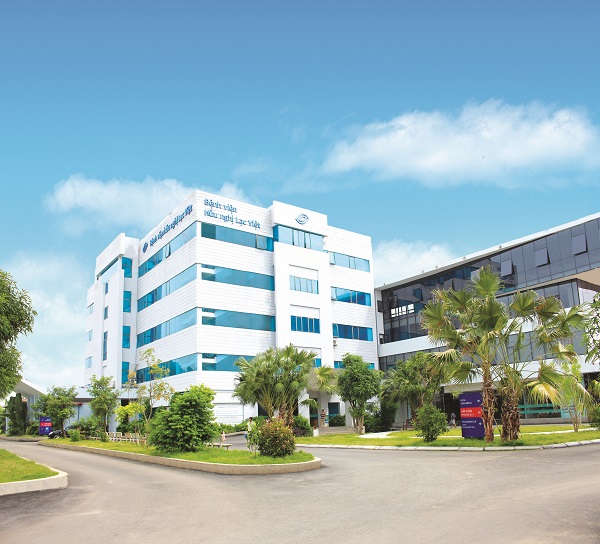 Introduction Vietnam Friendship Hospital Lac
Vietnam Friendship Hospital Lac address Dinh Trung commune – Vinh Yen City, Vinh Phuc province is the construction license dated 19.05.2010 on the area on 2.5Ha (20.000m2 floor area) with the size of 299 beds, modern 3 operating rooms, 8 treatment rooms, reaching the high standards with more than 300 employees and 95 full-time doctors. The precursor of the Hospital Clinic is Quan Su, with the complete machine, with the physician in charge of industry experts such as: Cancer, paternal or maternal, obstetric, ENT, intensive care, diagnostic imaging, laboratory, endoscopy, functional exploration … gave the patient the most perfect service. With a wide and ventilated area, the hospital has been planned according to a model of physical facilities. The function rooms are arranged according to modern patterns and airy, with modern facilities such as air-conditioning, clean bed.
Our departments include:
International Department
Out Patient Clinic
Imaging Diagnostic Department
Ophthalmology – Dentistry – ENT Department
Paediatrics Department
Emergency Department
General Surgery Department
Internal Medicine Department
Laboratory
Pharmacy
Identify new technologies and equipment would be an important breakthrough in strategic healthcare, Lac Vietnamese Friendship Hospital has invested heavily in modern equipment, advanced, high-end, such as the immune system latest generation automation of company Abbott (USA) and Roche (Switzerland) for diagnosis, screening for cancer, birth defects before birth; diagnosis of infertility, infertility, endocrine diseases, identification of rubella virus infection, hepatitis B, C, A, influenza virus, for fast results in 8 minutes; CT scan machine; Renal lithotripsy machines, urinary outside the body; 4D color ultrasound (3 pcs). Especially Hospital has deployed 4-dimensional color echocardiography, ultrasound and other modern: The mammary gland, thyroid, lymph nodes, software, joints; machine gastroscopy, colonoscopy, endoscopy ENT, endoscopy of the cervix. System automatic biochemical tests Hitachi Japan; automated hematology tests; ECG machines, EEG, EEG measuring blood flow, measured osteoporosis, mammography machines …
Along with the investment focus of medical equipment and modern Vietnam Friendship Hospital Lac also increase investment in human resources. Accordingly, the hospital has recruited a team of nurses, doctors, medical professionals experienced. Currently the hospital has a team of professors, Ph.D., oncologist skilled, experienced, highly qualified professionals, trained from renowned universities at home and abroad, worked more year at the major hospitals in the area.
Currently, the hospital has more than 200 nurses, doctors, staff, including nearly 100 physicians working full-time, besides including more than 100 doctors collaborate. They are all experienced physicians and prestige in foreign hospitals and public hospitals in the country. Thanks to the effort, dedication of collective doctors, technicians especially experts from major hospitals of Surgeons direct examination, health checks should ensure the diagnosis, concluding achieve high accuracy. Among the direct medical professionals must mention Ph.D., Colonel, Doctor of Merit Hoang Mai Trang – Professionals nerves, bones and joints, heart, kidneys joints; Professor, Doctor Nguyen Hoang Tuan – Professionals liver, digestive, Senior Specialist of Defense.